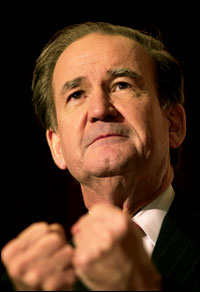 Just in case my recent use of the GOP as a foil for bad social science research and my raving over the Solidarity Party in Spain (see below) makes anyone think I lost my fond memories of reading Edmund Burke and other great conservative minds, here is one who I find myself reading, disagreeing with, nodding my head, and hoping he keeps on going: Pat Buchanan.
Yes, he has said some things that really ring my ears like, "Ten years after NAFTA, Mexico's leading export to America is still--Mexicans. America is becoming Mexamerica," in his popular books like,
Where the Right Went Wrong
, but he also writes--in the very same book--things like, "The Bush Doctrine is a prescription for permanent war for permanent peace, though wars are the death of republics."
My point is this: We need more of his ilk in public discourse, not less. If you don't want to read his books, and since I would never recommend that you watch television, you may want to read him
here
, at his active blog and website.